SALHER FORT, SALHER TREK
Salher is the highest fort in Maharashtra which offers spectacular views of the Baglan mountain range in Nashik. This fort is historically significant due to the Battle of Salher that happened here.
You can plan for a two days trek in which you can stay on Salher fort for a night and then go to Salota [twin fort] the next morning. A ridge connects both the forts and the route is not that difficult.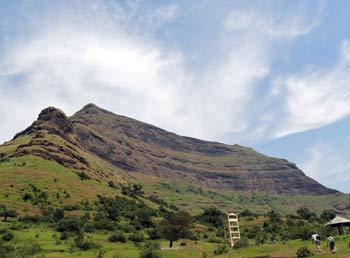 Salher Photos
DIFFICULTY LEVEL:
Hard
Height:
5,141 ft
Time for trekking
: 3 hours from the base
Salher is the highest fort in Maharashtra after Kalsubai which is the highest peak. This is a must visit place for people who are fond of heights.
How would you rate this place on a scale of 1-5? Vote Below!

Currently rated at 4.5 with 24 votes.
Thanks for Voting! Your vote will be used in the aggregate count.
---
Routes: From Pune you gotta head towards Nashik via Nashik Highway. Be careful while driving on Nashik highway as its got no divider and visibility during night is very terrible due to oncoming lights of vehicles. If you are going from Pune or Mumbai ensure that you leave early as driving to Nashik takes a lot of time and you do not want to start trekking in the evening. From Nashik you can ask the locals for directions to Satana.
If you are late to reach Satana you can find accomodation in the lodges at Satana or at Mangi Tungi [Jain Teertha Shetra] which is apprx 15kms from Satana]. From Satana you can either go to SalherWadi or Waghembe which are the base villages for Salher.
We recommend that you go for a two day trek here as most of your time will go in travelling.
Difficulty Level and Trek Route:
Difficulty level is moderate. It takes approximately 3 hours to reach to the top via Salher Wadi Route. The trek is very tiring so ensure that you take plenty of water and if possible some energy drinks to keep yourself hydrated.
Take plenty of Water: atleast 4 litres per person.
Camping & Food:
Salher is ideal for camping. There are 3 caves on the fort which are bat free and can give good shelter for camping if you do not have tents. The accomodation capacity of these caves is of around 30-40 people.
For an overnight trek, take a guide from the base village. Ask him to carry some firewood on the way as there's not much vegetation on the top. The temperature gets very low during nightime so its essential that you have enough firewood to keep yourselves warm and cook food.
For food, we recommend that you carry your own packed food if possible as there are no restaurants at the base village. Carry maggi or rice that you can cook if you are planning to stay on the fort.
What to see on the fort:
CAVES
WATER TANKS [Do not drink water from the water tanks, they are polluted badly and the water could give you N number of diseases]
PARSHURAM TEMPLE
BEAUTIFUL VIEWS OF THE MOUNTAIN RANGES
STAIRS AND DOORS WHICH ARE STILL INTACT
VIEW OF SALOTA FORT