HARISHCHANDRAGAD FORT, HARISHCHANDRAGAD TREK
Harischandragad Fort is one of the best hill forts in the Ahmednagar region. It's a very popular trekking destination due to the amazing views that one can get from the top.
The main attraction at Harishchandragad is the Konkan Kada from where you get a nice view of Konkan. The structure of this kada is like an overhang and during the monsoon season, clouds get clustered under this kada. The view is just spectacular.
In short, Harischandragad trek has a lot to offer. So if you've not been here, do plan for it. It's a must visit place.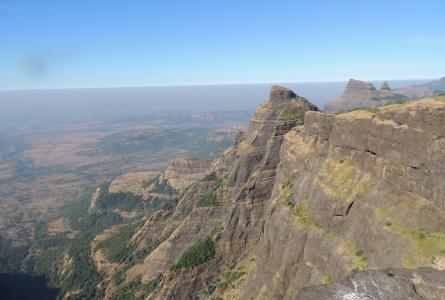 Harishchandragad Photos
DIFFICULTY LEVEL:
Hard
Time for trekking
: 3 hours from the base via the Easy route.
Harishchandragad is a hill fort located in Ahmednagar region of Maharashtra.
How would you rate this place on a scale of 1-5? Vote Below!

Currently rated at 4.3 with 61 votes.
Thanks for Voting! Your vote will be used in the aggregate count.
---
Route Information: There are 3 popular ways to get to the fort. One via Khireshwar Village, via Nalichi Vaat [Extremely difficult] and the easiest one via Pachnai Village.
The Khireshwar village route is the one that most people prefer as it offers a lot of scenic beauty while trekking. But this route is also a bit time consuming.
From Pune to Khireshwar: Head towards ALEPHATA on NH 50 (Nasikh highway) which is approx 96 kms from Pune. From ALEPHATA turn left to reach a small town named OTUR. From OTUR reach the village KHIRESHWAR which is the base village. THE ROAD FROM OTUR TO KHIRESHWAR IS ALONG THE WATERS OF PIMPALGAON JOGA DAM, here you will have a amazing view of natural beauty.
From Mumbai to Khireshwar: From Mumbai reach KALYAN, From KALYAN head on NH 222 towards MALSHEJ GHAT. After ascending MALSHEJ GHAT there is a diversion for the village KHIRESHWAR. PLZ ASK THE LOCALS FOR THIS DIVERSION. After reaching the village KHIRESHWAR you can start your trek through TOLAR KHIND. There are 2 more alternate routes to Harishchandragad, but we would recommend you go via Khireshwar coz this is the best route and offers good view while trekking and is a bit tough.
From Pune to Pachnai Village [Route 2]: The route is as follows Pune-Alephata-Sangamner-Akole-Rajur-Pachnai. Pachnai is the base village where you can park your vehicles and start the trek.
From Mumbai to Pachnai Village [Route 2]: The route is as follows Mumbai-Igatpuri-Ghoti-Bari-Rajur-Pachnai.
Route via PUBLIC TRANSPORT from Pune: Travelers from Pune will have to take a ST[State Transport] Bus from Shivaji Nagar. You can take any bus that goes to Sangamner or Nasik. Get down at Alephata and then take a local bus from Alephata to Khube Phata. Ask the locals for transport options from Alephata. From Khubi, a 3-4 kilometres walk will take you to the base village of Harishchandragad fort called Khireshwar.
We would recommend that if you have novice trekkers in your group, then you should go via the Pachnai Village. This route is the easiest one and even beginner trekkers should not have any issues. Also take a guide from the village if you've never been here.
Difficulty Level and Other useful tips:
Difficulty level is Moderate.On a scale of 1 to 10, We'd say 8 with 1 being very easy.
Height above sea level: 4710 feet.
It takes approximately 6 hours to reach to the top of Harischandragad where you'd find the Harishchandrareshwar temple. There are many rocky patches and steep climbs enroute. Carry plenty of water, the water tanks on the fort do not offer potable water except monsoons.Take enough care through the forest and rocky climbs.
Please be extra careful around the Kokan Kada area. There is a huge drop from the edge. So avoid doing anything risky for selfies or photos. Photos may look cool, but please understand that life is precious too. These days the government has installed railings so please don't cross them at any cost.
GUIDE INFORMATION:
You should hire a guide from the village if none of your group members have prior experience of trekking at Harishchandragad. The usual charge for a guide is around 200-300 during off-season time. During winter and the monsoon season they charge around 400-500. These guides are also useful for carrying tents/trekking equipment and will also educate you about the History of the fort.
Some of the locals have posted their phone numbers in the comments section of the Harishchandragad FaQ Page. Feel free to contact them directly for more precise information.
Camping Info:
A few years back, camping was allowed on the fort. Recently, the Kalsubai Harishchandragad Wildlife Sanctuary Forest department has imposed a ban on camping to control increasing garbage on the fort. The forest department officers have also advised the villagers to not let anyone camp on the fort. There were a few restaurants on the fort which also have been shut down due to this decision.
Please remember not to litter anywhere on the fort. If you find any garbage while trekking, ensure that you pick it up and carry it back to the city in a garbage bag. Harischandragad fort has a lot of history related to it and its kind of every trekkers duty to preserve the historical monuments on the fort.
If you do not have tents of your own, heres a link with list of place where you can buy tents in pune.
What to see on the fort:
KEDARESHWAR CAVE - This temple is marvelous example of the fine art of carving sculptures out of stones that prevailed in ancient India. The river Mangal Ganga is said to originate from one of the tanks located close to the temple.
KONKAN KADA - A huge cliff at Harishchandragad which offers spectacular view of Konkan and also the sunset.
OTHER CAVES - There are many caves on this fort.
KEDARESHWAR CAVE: In this cave there is a Shivlinga which is surrounded by ice cold water. During rainy season this cave is not accessible as there's lot of water in the surrounding area.
TARAMATI PEAK: Also known as Taramanchi. This is the topmost point on the fort. It is the 2nd highest peak in Maharashtra. Leopards are seen in the forests beyond this peak. From here we can have a glimpse of the whole range of Naneghat and the forts near Murbad.